The Coffee Negroni
June 7, 2016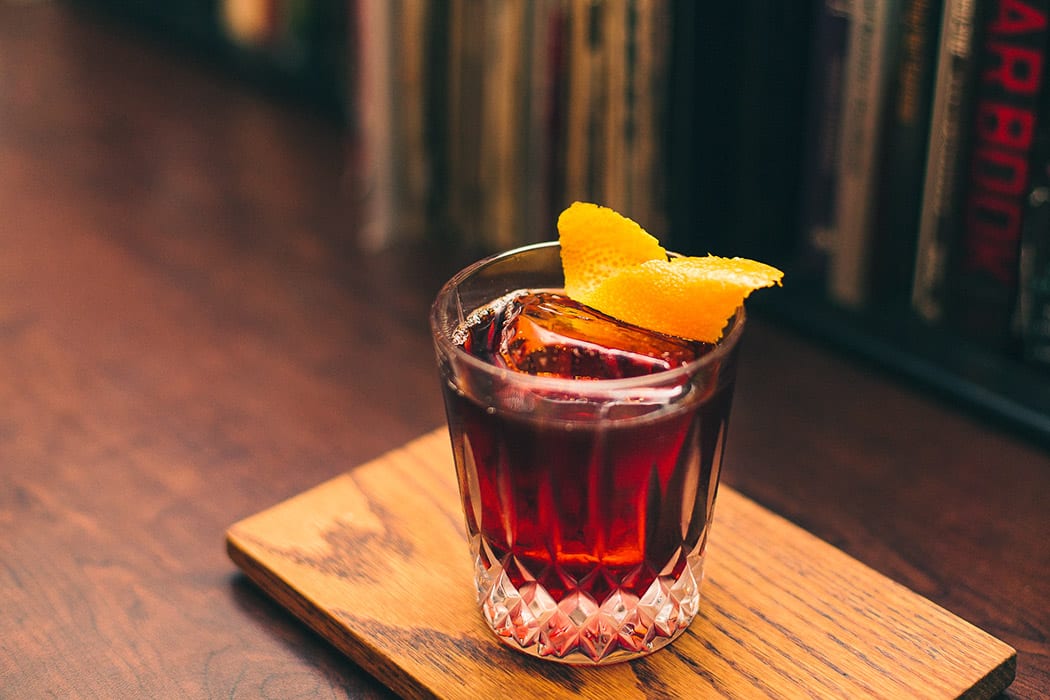 The Cold-Brew Coffee Negroni at Vespr Coffeebar in Orlando. Photo by Edd Siu.
The beauty of Negroni Week is seen in the sheer ingenuity of its participants. Many bartenders roll up their sleeves and take the classic cocktail where it's never gone before. And increasingly, baristas are getting in on the fun as a number of cafés join the festivities. "We've really embraced this idea that at its core coffee is an ingredient," says Trevor Corlett, founder and CEO of Madcap Coffee Company in Grand Rapids, Michigan.  "We've been inspired by cocktail culture and how these drinks are being built and presented, and Negroni Week has allowed us to challenge ourselves to create coffee drinks inspired by a cocktail we love and also take the opportunity to draw people into what we're trying to do."
Corlett knows a quite a bit about creative coffee drinks. He won a divisional qualifying match at the U.S. Barista Championship earlier this year with a coffee mocktail that combined espresso, cherry bitters, sweetened condensed milk and grenadine in a cinnamon-smoked coupe. For Negroni Week, he created a lineup of coffee and tea mocktails, like the Negro Bianca with white tea, grapefruit juice, juniper berries, cinnamon and cardamom. His Tè & Caffè Amaro combines espresso and cascara with lemon and orange peel. "Our goal was to have a beverage that is coffee-forward but also mixes well with those citrus, floral, herbal, sweet and bitter flavors we love in a Negroni," says Corlett. "A lot of the complex flavors you experience in a Negroni are, in their own way, also found in coffee."
Corlett isn't alone in these endeavors. Common Bond Cafe in Houston is making a Café Casoni with Cappelletti, Dolin Dry and rosemary-infused cold-brew coffee concentrate. Either/Or in Portland, Oregon, is mixing up Coffee Cascara Negronis with juniper-infused coffee, cascara with grapefruit zest and beet juice and alcohol-free "vermouth" made from an herb and grape juice-infused vinegar. Orlando's Vespr Coffeebar is ramping up the coffee flavors by swapping the gin for cold-brew concentrate in their Cold-Brew Coffee Negroni.
And at Kobrick Coffee Co. in New York City, they're actually making cold brew with their Negroni ingredients in place of water. Crafted by Brian Averbuch and Tobin Ludwig, the Three-Hour Kyoto Negroni is brewed through a Yama Kyoto Dripper. "The immediate concept was to build a classic Negroni in the Yama reservoir and run it through a roast coffee that had complimentary flavor attributes. We settled on the Kenya AA for it's earthy, citrusy character," says Ludwig. "The cocktail that is output has everything you love about a Negroni with the earthy vibrance of a great roast coffee on top of it, subtle and well balanced."
Meanwhile, Green Russell in Denver is taking the whole concept back a step by creating Negroni-aged coffee beans. Using the oak barrel from their signature barrel-aged Negroni, Adam Hodak, beverage director for Bonanno Concepts, will fill it with 135 pounds of unroasted beans from Pablo's Coffee. After aging and roasting, the bags of coffee will be sold during Negroni Week (along with a cocktail incorporating the coffee) with all proceeds benefiting Green Russell's chosen charity, Water for People.
"There's something wonderful about that balance of sweetness, acidity and bitterness," says Corlett. "The Negroni plays with that line and, depending on how a bar interprets their Negroni, it can be more bitter, more vermouth-heavy, more gin-heavy, etc. Coffee and tea are the same way. So you have this creative freedom to explore different profiles and share different experiences."